THE FOLLOWING PRECAUTIONARY MEASURES HAS BEEN DISCUSSED BRIEFLY FOR GIVING YOU A PROPER IDEA ABOUT THE THINGS YOU SHOULD CONSIDER WHILE GUTTER CLEANING:-
1-THE TYPE OF LADDER YOU MUST USE
2-GUTTER CLEANING EQUIPMENT
3-GUTTER CLEANING OUTFIT
4-BENEFITS OF INVESTING IN HIRING GUTTER GUYS
5-THINGS YOU MUST BE AWARE OF
WHY TAKE THE SAFETY MEASURES?

Most homeowners might take gutters as something optional. They might not consider it necessary unless anything goes wrong. So gutter maintenance is compulsory and, gutter cleaning is the best way of maintaining it. Safety precautions are obligatory to follow before going for gutter cleaning. Cleaning gutters is a dangerous job. Deadly accidents might occur if one intends to clean his gutters without following the safety precautions.
HOW TO CHECK THE LADDERS?
The ladders you're thinking of climbing; should be strong enough and also stable. So that it stays still while you are working, standing on it. Check the screws and bolts; if they are attached tightly. Four-legged ladders are an option for single-story structures and, an extension ladder is good if it's two-storied or more. You also have to keep in mind that you will have to move the ladder many times while cleaning the gutters. So make sure the ladder is not too heavy for you to move it – have somebody hold the ladder for you.
GET THE GUTTER EQUIPMENT: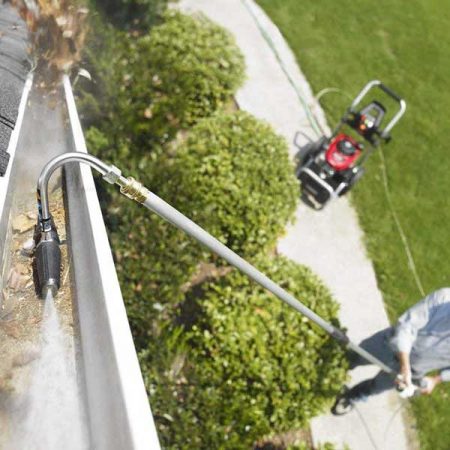 Gutters scoop is the inexpensive equipment you could use. But it should be a plastic gutter scoop. Its scooping edge is thin and, it makes it easier to clean the debris. Since it has a thin edge, it can go down the downspout and unclog it. It's also safe for the gutters since no risk of scratches or damage. Steel-made gutter coops might leave scratches or damage them. You can clean even the toughest debris from gutters of any size. Gutter flushers, telescope hose wand, leaf blower are the options if you want your legs on the ground. You can reach the gutters standing on the ground; if you use this equipment. A gutter cleaning kit is another good option. You will get many types of equipment in one purchase.
COVER YOUR HANDS :
The debris accumulated in your gutter might contain the wastes of birds and insects. They might contain bacteria and germs. They must not come in contact with your hand. So wear gloves before you start cleaning. These will prevent germs from entering your body. Thus you will be safe from getting infected by these germs.
WEAR RUBBER SOLE SHOES :
You have to remove the debris from your roof before cleaning the gutters. You had better not walk around wearing ordinary candles. There might be a chance of slipping off the ladder. Rubber sole shoes will prevent this risk and cover your feet well. Doing this will make it easier for you to walk around the roof or basement and stand steadily on the ladder.
COVER YOUR EYES :
Protect your eyes from dust and smalls insects that might come out of the debris while cleaning. You can use safety glasses to cover your eyes and protect your eyes from harmful stuff.
DON'T WORK ALL ALONE :
Keep somebody as your assistant to help with the work. Gutter cleaning is risky, as well as grinding. You can never handle the whole procedure on your own. You need somebody to hold the ladder for you to keep the ladder still. Then you might need help with moving the ladder from one position to another. He might help you pass the equipment or collect the debris. It will also save your time and energy.
DO SOME RESEARCH :
Before you start doing such a risky job, You must have an idea about the equipment and the process of using those. If you start using the equipment without knowing how to use those, you might mess things up. Due to improper use of gutter cleaning equipment, scratches and other damages might ruin your gutters. So before you start working, spent some time researching how to use gutter equipment. Research the safety precautions. Starting from the outfit to what you should do and what you should not.
CHECK THE POWER LINE :
If there are power lines around your gutters, then you must check if there is any damage. You should also check if the wires are in good condition. Don't use metal ladders in such cases. Also, don't attempt to clean the gutters in wet condition. First, call an electrician if you find any issues with the power lines because this could be dangerous.
TAKE HELP FROM PROFESSIONALS :
If you don't feel secured cleaning the gutters, You should leave them in the hands of professionals. Contact Gutter Experts and let them handle it instead of doing it yourself. It might cost some money, but still worth it. It's better not to attempt to do the work by yourself if you do not feel safe. In that case, you had better spend some money and let the experts handle the job carefully. You can ensure your safety, as well as, Gutter Protection if you hire experts.
In a nutshell, if you think that the time for cleaning your gutters has come, you must start acquiring knowledge about gutter cleaning and the equipment. If are thinking of cleaning the gutters yourself or you should hire an expert who will handle the job and do it precisely. Whoever is doing the job; all that matters is personal safety. So, one should take safety measures to protect himself from deadly accidents and also protect the house from damage.